Our guest house provides a safe, comfortable and structured environment conducive to healing and growth as an option for people participating in programs at New Life Spirit Recovery. Our homes are overseen by state-certified counselors who care about the overall objectives of each guest. Our homes are separated by gender, providing an atmosphere of sisterhood and brotherhood.
Grace House for Women
Do not be afraid, for I have ransomed you. I have called you by name; you are mine. When you go through deep waters, I will be with you. When you go through rivers of difficulty, you will not drown. When you walk through the fire of oppression, you will not be burned up; the flames will not consume you. For I am the Lord, your God, the Holy One of Israel, your Savior…you are precious to me. You are honored, and I love you. Isaiah 43:1-4
Women have unique and special needs in the environment where they stay. They value feeling safe, secure and having a calm and pleasant setting where they can express themselves and concentrate on their goals. At the Grace House women are encouraged to learn about who they are and the plan God has for them. As they go through their clinical program at New Life Spirit Recovery, the housing provides a place for personal reflection, study, quiet time and fellowship. The environment is centered on the Lord Jesus Christ, where spiritual growth can be nurtured, and a structured routine encouraged.
The house is walking distance to local stores and restaurants, and is located minutes from the beautiful beaches of Huntington Beach, Ca. While the home offers accountability, it does not entirely cage a person inside. We allow some freedoms, such as a walk in the neighborhood, and a trip to the beach. In doing so, guests can learn the benefit and value of implementing choice under the enforcement of rules and requirements.
All guests in our substance addiction track are tested on a daily basis to assure that our zero-tolerance of substance use policy is adhered to. In the home, they are asked to develop quiet time with the Lord and participate in bible studies and other group activities.
Jeremiah House for Men
Don't be afraid, for I am with you. Don't be discouraged, for I am your God. I will strengthen you and help you. I will hold you up with my victorious right hand. – Isaiah 41:10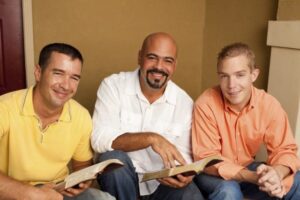 The name Jeremiah means "God will raise up; God will set free." Men can learn how to be raised up from the pit of addiction and despair and set on the course of their God-given identity and purpose. What an awesome journey! The Jeremiah House is a place that helps in making the transition from bondage to freedom. Structure, accountability and daily routines are important in the beginning phase of recovery. All guests are tested on a daily basis to assure that our zero-tolerance of substance use policy is adhered to.
In the Jeremiah House, men engage in a variety of activities from reading God's word, to homework to bible studies. It is a fellowship of brothers that helps men find peace and relaxation, as well to meditate on what they are learning and where they are going. At the Jeremiah House being allowed the opportunity to be real, vulnerable and honest is essential. Here they can deal with things as they are, and know that others are going through the same journey.
The Jeremiah House allows some freedoms, such as walks and trips to the beach. It gives men the opportunity to learn the value of making daily choices, and understand fully the consequences of those choices. This has proven to result in a smoother transition upon leaving the program.
We are located close to local stores, restaurants, and the stunning beaches of Huntington Beach, CA